Put the Fizz Back into Your Career
There's a natural life cycle to everything, and that includes your career.  An essential element of career ownership is understanding how your motivations and priorities change as you progress through each stage to help you stay ahead of your changing needs. It puts you in the driver's seat so that you're in control of where your career is heading.
Many people suddenly feel lost and uncertain as the job they loved so much not so long ago, has now lost its shine and appeal. Pausing now and then to re-assess where you're at is a great practice so that when your enthusiasm at work fizzles out, you're not left wondering 'what's next'.
Let me pause here a bit to emphasise a point worth repeating –
The ownership and management of your career lies with you.
It's not your manager's responsibility. Not your company's. The primary responsibility lies with YOU.
Of course, your company should care about helping you achieve your career goals. But let's face it. It's your life and your livelihood we're talking about here. It would be foolish to expect anyone else to care as much about it as you do.
When you first enter the workforce, you're in what I call the 'Road Test' phase.  You're road testing the career path or profession you've chosen (or were advised by your parents to choose). You're trying it on for size. To see if it's a good fit. If it's what you expected. For some, it's exactly what they hoped for. For others, not so much. So you continue searching and try something else. It's a natural evolution to find your place in the working world.
Then you move into the 'Proving' stage. As the name suggests, this is about proving yourself. You're keen to demonstrate your value and advancement is your key priority. The S-curve is commonly used to represent natural life cycles, and from this perspective, the 'Proving' stage is when you'll experience the greatest growth. Your learning curve accelerates as you're willing to assume more risk, take on bigger roles and push outside your comfort zone to learn new skills.
Then you get more 'Established' and your learning curve typically slows down. You're reaping the rewards of your hard work and building the next generation of leaders, but not growing as much.
Injecting new fizz into your career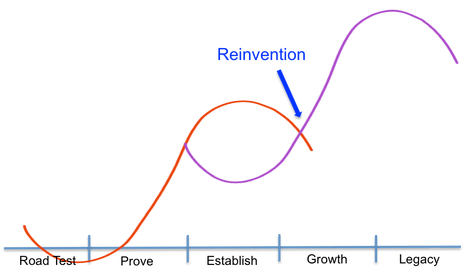 At some point well into your 'Established' stage, you may begin experiencing the churn of 'been there, done that' and start to lose your mojo. For some, this stage brings up confronting realisations of the trade offs they've made for their career success, and work/life concerns become more pressing.
This is a critical cross roads for most. If approached correctly, it can be a tremendous opportunity for reinvention and new growth. It's a tipping point to create new possibilities for your work and life …. for those who dare answer the call. Whether by breathing new life and energy into your current job/career. Or by charting a different path into new, unexplored territories. This is about finding new, meaningful ways to contribute. This is about creating your legacy.
What I see more and more is that this tipping point of reinvention is happening earlier for many people.  Perhaps not surprisingly given the constant overwhelm that is causing us to burn out faster. Sometimes we need something to push us off our inertia. And if the constant overwhelm is causing us to question our choices, then it's a good thing.
I think there's also an awakening of sorts. Why do we need to plough 10-20 years of our life into a career before we start thinking about how we want to leave our mark in the world? The tech entrepreneurs are showing us that with clear intentions, bold ambitions and hard work; there is no minimum experience required for legacy building work.
The way I see it, life's too short to be dragging yourself to work every day. If you plan on working for a little while more, it might be as well be something that energises and excites you. That is what career ownership is all about.